Looking for answers? ReloQuest invites you to take a journey with Craig Partin, Chief Sales Officer of Furnished Quarters, as he discusses topics that range from industry insights on trends in relocation, components crucial to success, and technology, to his leadership style, and a healthy work-life balance. Through his candor, learn about Mobility Industry tactics and techniques that have provided an edge for achieving his goals. Furnished Quarters serves popular markets; such as New York City and Boston, and excels in helping relocating individuals and families find comfortable short-term corporate housing.

1.What do you do to manage your time? How do you maintain your mental and physical stamina?
I believe managing time comes down to four things: priorities, energy, attention and tools. Regarding priorities, the truth is, saying "I don't have time" really means "it's not a priority." You have to distinguish between what's urgent and what's important, like the famous Eisenhower quote: "What is important is seldom urgent, and what is urgent is seldom important." When it comes to energy, I'm a big believer in "eating the frog," otherwise known as completing your most difficult tasks first. I also like to look at the work day not in terms of 8 hours, but rather as smaller chunks of time—30, 60 or 90 minutes. Getting enough sleep, exercising, eating right and having a healthy work-life balance are also crucial to my mental and physical stamina. As far as attention goes, like many of us, I'm guilty of trying to multitask and later finding out it took me more time overall than if I were to do one thing at a time. In other words, multitasking comes at a price, not just in terms of time spent but also the quality of work. If I'm in a meeting, it helps if I turn off all my screens and notifications to resist the urge to multitask.
2. Name mobility trends that you feel should be top of mind for those involved with employee relocation.
Four trends immediately come to mind: renting by choice, "VIP moves," changing immigration needs, and more consolidation and aggregation in mobility technology.
Renting by choice is a recent phenomenon where an increasing number of people who would normally be homebuyers are choosing to rent instead. The reasoning behind it varies, but oftentimes it occurs among people who lost money in the real estate markets after the housing crash in 2008. Renting by choice leads to two things: compression in the rental market and more demand for larger, higher-end properties.
"VIP moves" are moves in which high-level employees are requesting more white glove, hands-on, specialized services. Furnished Quarters has seen a constant increase in these moves, and we've responded by meeting their needs and providing specialized services such as bespoke, custom FQ Select apartments and hotel/resort style services for all of our VIP guests.
Of course, we're also living in a world where technology changes by the minute. Recently, I'm seeing more consolidation and aggregation of services, data, and providers.
Lastly, in our current political climate, the immigration process is challenging at best. The process is often taking longer, late arrival dates are more common, and there may be sudden changes in the information required by the parties involved. Corporations are reacting to these changes as quickly and effectively as they can, and so are temporary housing providers like Furnished Quarters.
3. What changes are you looking forward to in 2017 within our industry, the USA, and globally?
I'm looking forward to changes in technology—particularly the aggregation of corporate apartments and related data. It's one of the most pressing issues in our industry. I also look forward to the corporate housing space following in the footsteps of the travel industry, with more online booking platforms, aggregators, and other online travel agency-type services. Our challenge with this as corporate housing providers is to ensure the industry does not become commodified. Amid these changes, Furnished Quarters feels a responsibility to maintain our high standards of customer service and apartment quality. Corporate housing shouldn't simply be a box with furniture inside. It's about service.
Overall, I see a globalization of corporate housing occurring, strengthened through partnerships with like-minded providers nationally and globally. Together we can learn best practices and maintain the quality standards we all uphold, in turn supporting a stronger mobility practice.
4. How would you describe your leadership style and how does it translate into your everyday work? Has it affected your corporate culture?
My leadership style is one of extreme collaboration and radical candor. By collaboration, I mean learning from each other and with each other, both internally at Furnished Quarters and externally via industry-related organizations and client interactions. Radical candor I learned from a TED Talk by Kim Scott, who's worked at several Silicon Valley companies. It's about being truly honest all the time with your team internally, even if it hurts. Radical candor is essential to creating real growth, among both individuals and businesses. My husband also owns an executive coaching and training company, so I try to get the inside scoop from him.
I truly love to sell and win, and that permeates throughout our organization. We like to have fun while we win. I approach work and life from a perspective of "why not" instead of "why." Our CEO, Steve Brown, also encourages an open atmosphere that empowers team members with the freedom to speak their minds and be edgy.
Biography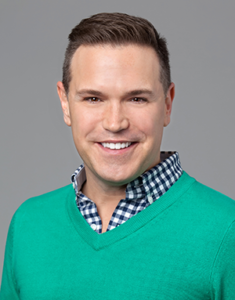 Craig Partin, CRP, CCHP, GMS
Chief Sales Officer
Furnished Quarters
Craig Partin is a temporary housing specialist with 25+ years of experience in the relocation and hospitality industries.  At Furnished Quarters, he has overall responsibility for the sales team who creates the revenue generation and growth of the company.
Craig brings a wealth of expertise to his role at Furnished Quarters after having led teams at AKA by Korman Communities, SIRVA Relocation, Altair Global Relocation and several other leading corporate housing firms throughout the US.  He is a seasoned expert in both the under 30 day and 30+ day segments of the hospitality sector.
Craig was bestowed the Certified Relocation Professional and Global Mobility Specialist designations by the Employee Relocation Council, and the Certified Corporate Housing Professional designation by the Corporate Housing Providers Association.  In 2013, the Corporate Housing Providers Association named him the prestigious Tower of Excellence Industry Professional of the Year.
Craig has served on boards of directors and committees for the Tri-State Relocation Council, the Hotel Sales and Marketing Council, the North Texas Relocation Professionals, the Rocky Mountain Relocation Council, the Bay Area Mobility Professionals, the New Jersey Relocation Council and several other similar industry-related organizations. Craig is a graduate of the University of North Texas with a degree in Advertising and Marketing. He resides in New York City.