ReloQuest™ wins the Most Innovative Use of Technology in Global Mobility-Bespoke award at the Forum for Expatriate Management (FEM) Americas EMMAs 2017. Additionally, ReloQuest Founder, Darin Karp, was awarded Global Mobility Rising Star–judged on demonstration of a significant impact, clearly showing exceptional abilities, destined to be among the industry "movers and shakers" for the future. The EMMA's were held in Denver, Colorado on May 4th, the event acknowledges companies and individuals that have made significant contributions to global relocation.

On November 11th, 2016, ReloQuest™ was awarded Most Innovative Use of Technology in Global Mobility, Bespoke at The EMEA EMMAs held in London. ReloQuest™ also received the 2017 Best Use of Technology award from Serviced Apartments, this March in the UK.
Claire Tennant-Scull, Head of Content at FEM said, "The FEM EMMAs really are the gold standard awards for the global mobility and international HR industry. They are the only truly global, yet region-specific awards with the greatest breadth of categories."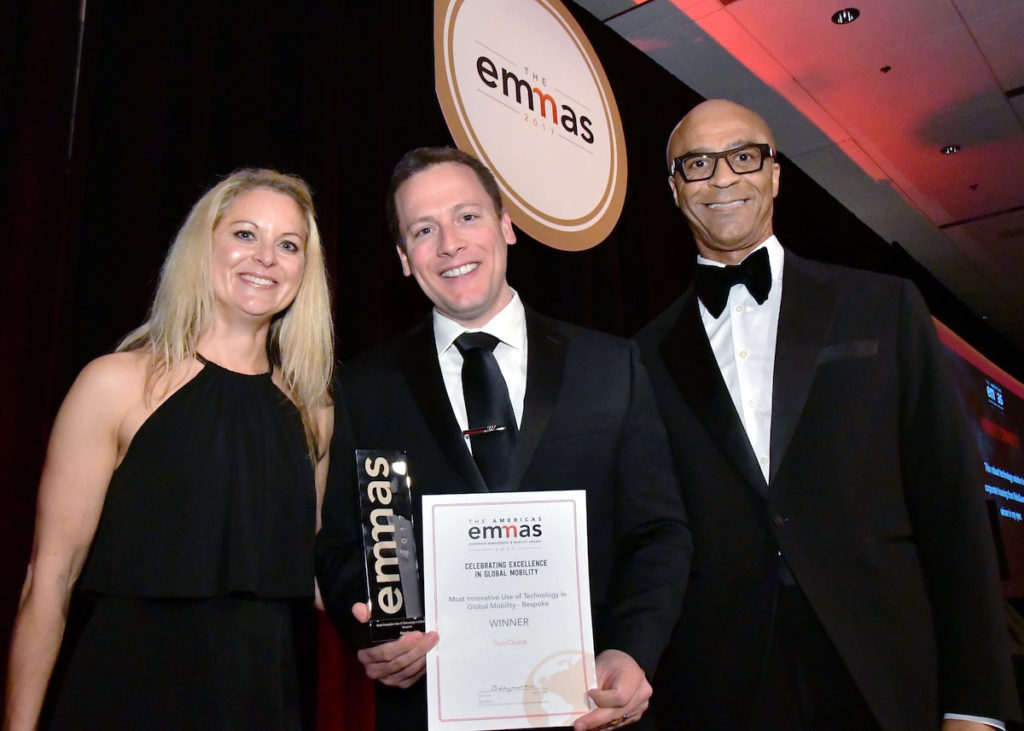 Entries across 24 categories, for 2017 were submitted to an independent judging panel composed of industry experts. FEM Stated that the competition for this award was fierce. Entries were judged against strict criteria. The judges commented on ReloQuest's entry: "This robust technology solution for corporate housing from ReloQuest is a winner in our eyes."
ReloQuest™ has transformed the way temporary accommodations are sourced. Similar to the disruption that Airbnb brought to vacation rentals, and Expedia.com brought to the Travel Industry, ReloQuest has revolutionized Corporate Housing and Mobility Travel. Valuable qualitative and quantitative data empowers mobility managers with metrics facilitating informed decisions. ReloQuest benefits everyone involved from the corporation and the mobility professional, to the employee, and the supplier.
ReloQuest Founder, Darin Karp stated, "Our team is very proud of ReloQuest's success. The awards and recognition validate the industry impact ReloQuest has demonstrated. Our rapid growth inspires ReloQuest's continued innovation."
With ReloQuest clients and suppliers can connect with each other directly. Both sides love this feature, as it dispenses with middleman delays, saving time and money. The aggregator technology supplies: rapid implementation, ease of use, genuine transparency, real-time data, substantial cost reduction, and vetted global supplier representation. ReloQuest suppliers undergo multiple vetting's from global mobility leaders plus a certification process, giving platform users the assurance that ReloQuest's vetted suppliers are the industry's best.